Long long time ago I was of the early users of an app called Phhhoto, a ping-pong loop GIF creation app, long before Instagram's Boomerang or any other designated app.
Besides the jumpy short creation, it had a flaw, but for me – a top quality that I fell in love in – Text addition in a really good looking font, one that you cannot change it's size or color or alignment.
To spice things up there was a bug that prevented me from saving new GIF until saving the one open – it meant that I had to think, compose, shoot and copywrite on the spot, even during the most complex moments.
That personal challenge gave birth to a project I hoped once to accomplish – a 365 GIFs to be released daily to fill a whole year's callendar.
One day as I was riding a train home I logged in only to see the most terrifying note:
At this point I started realize I lost my whole collection I'v been working on for more then a year. After some cursing, a few shimmers and the realization I moved on, but not gave up.
the search for the lost photos began and eventually, after a couple weeks I found most of them in a backup hidden somewhere in my Google Drive.
Well .. I think it's time for you to see some of them: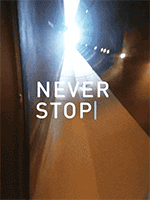 Go figure it out … it'll might end up in an exhibition I had in mind …
You don't have a 100+ old phones, do you ?